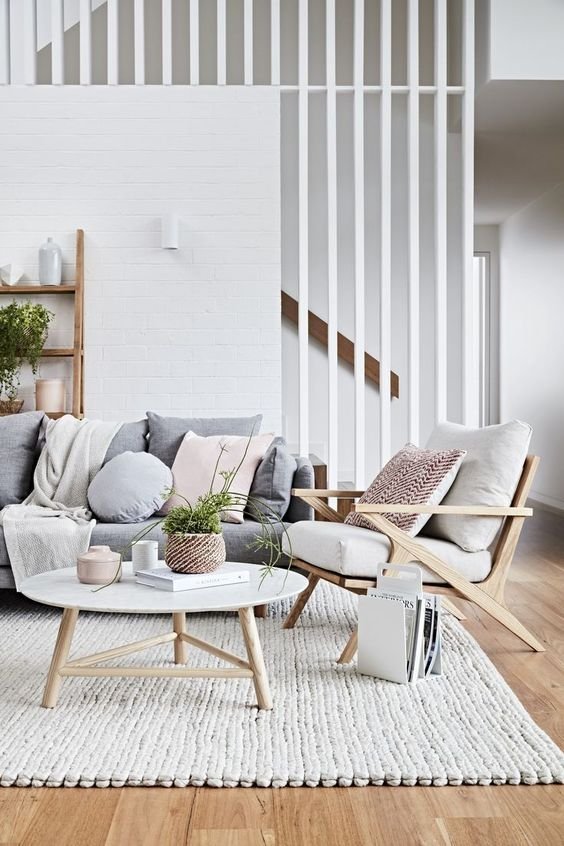 Play with natural light and muted colours
Scandinavian interior design often plays with natural light; a hot commodity in Nordic countries. The Scandi colour palette has a limited number of shades, featuring neutral colours such as whites, greys, pale greens and pinks. Hues are focused on the lighter side as it's dark in the region most of the year, and these lighter colours reflect the natural light beautifully.
Accessorise with warm textiles 
The use of warm textiles in scandinavian home decor is common due to their extremely cold climates. These textures come in the form of throws, blankets, rugs and carpets made from sheepskin, wool or fur. Adding these warm textures is a great way to add warmth and cosiness to the sleek, modern furniture. 
Incorporate minimalism 
Continuing with the notion of 'less is more', an important characteristic of Scandinavian design is that it should be clutter-free with storage spaces cleverly organised to create a visually relaxing space. 
Use warm wood
using warm wood in scandi design adds warmth and brightness into the room without the need to use overwhelming bright colours. 
Add plants and nature
The Scandinavian love of nature is reflected in the home with plenty of natural materials like wood and natural stone, left untreated and unpainted to show off all of the natural grains and textures. To connect outdoors with the indoors, living plants are often used around the home. 
Combine metal and wooden finishes
Scandinavian design incorporates wooden elements throughout the home in furniture, flooring and fixtures. A recent trend in the Scandinavian style is to combine metallics with wooden elements such as copper or brass to add a glimmer and shine to a space.  
 Choose simple decorative pieces 
Decorative accents should be simple to keep with the minimalist and simplistic tone of Scandinavian design. Add an elegant ceramic vase to your dining table, or add texture to your interior with throws and cushions with simple geometric patterns and subtle colours.
Here are some of our products which ooze Scandinavian Design…